Auto Transport in Canada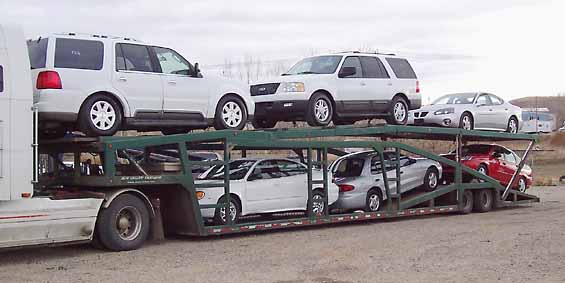 If you are looking for reliable car shipping in Canada, trust your auto transport needs to the experts at ShipMyRide! With our experience handling vehicle transport in Canada, we know that a high-level of care, security and quality service are the most important aspects of shipping your car.
We will be more than happy to provide you with qualified vehicle transport service anywhere in Canada. ShipMyRide is a certified auto shipping company providing the best car shipping service.
We have only the highest quality standards in vehicle shipping and our customers tell us all the time. We are proud to say that we are a platinum member of the Auto Transport Association since 2009 and continue to work hard to improve the auto shipping service in Canada.
You need a trustworthy source in the vehicle transport industry that can help you get the job done safely and effectively. Some services offered by ShipMyRide are:
Security:
Your vehicle is never left unattended. The driver is always with the load.
Insurance:
We have three types of insurances: Garage, Cargo and Liability. This means that your vehicle will be insured up-to $250,000 from the minute that it's left at our yard.
Door to Door service:
If needed we will pick up the vehicle at your doorstep and bring it to the address where you will relocate.
Open and Enclosed Carrier:
You are welcome to ship in an open carrier, which will save you about 60% on your auto transport. Or you can ship in an enclosed carrier, which protects your vehicle from any elements and road debris.
GPS System:
Our trucks have a GPS system that allow us to track your vehicle at any moment.
24/7 Customer service:
We have great communication with our customers. You will be able to receive assistance 24/7. On the bottom right you will see a live chat. Send us a message and someone will respond promptly. We will also send you updates on your vehicle transit status every Monday.
ShipMyRide will gladly provide you with a free car shipping quote with TAX and fuel surcharge included. No hidden fees! This will help better manage your budget.
Please feel free to contact us with any inquiries. Our friendly and knowledgeable staff is ready to take your call!
Contact us with any auto shipping doubts. We are here to help you transport your vehicle anywhere in Canada.
#2 – 9440 48th Street SE
Calgary, AB T2C 2R2
Call us: 1-888-875-SHIP (7447)
Email us: info@shipmyride.ca
Contact Us! Faster, reliable, simply the best!
"Best Car Shipping in Canada"
Auto Transport in Alberta | Auto Transport in British Columbia | Auto Transport in Saskatchewan |Auto Transport in Manitoba | Auto Transport in Ontario | Auto Transport in Quebec |Auto Transport in New Brunswick | Auto Transport in Nova Scotia | Auto Transport in Prince Edward Island | Alberta Car Shipping | Ontario Car Shipping | Canadian Car Shipping