Open Car Carrier Shipping Service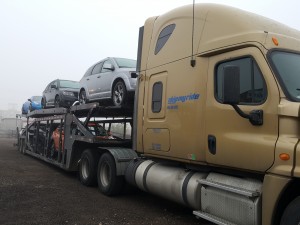 Transporting on an open carrier will save you approximately 60% on your shipping cost when comparing it to enclosed shipping.
When using open car carrier for your vehicle move, your vehicle will be driven up a specialized ramp onto the carrier and safely strapped in. The ramps are specially designed to avoid damage to the vehicle during the loading and off loading process.
Your vehicle will be securely fastened to the carrier's deck with a sophisticated tie-down system that allows your vehicle to ride freely on its own suspension.
When you need to ship, transport or move a vehicle, truck or other type of auto-mobile anywhere in Canada ShipMyRide is your best choice!
Our Equipment:
Our car carriers are owned by us, this ensures all equipment is is maintained to the highest standards.
We have equipment from a one car carrier to 10 vehicle trailers for open transport.
Our Customers:
Many car dealerships prefer open car transportation when they are working on getting vehicles form other cities or provinces in Canada. It is a safe and cost effective methods to transport cars.
Private owners find open car shipping a practical choice when it comes to safe and timely shipping service.
Get your Free quote today using the FORM on the RIGHT!
---
Ship My Ride – Contact Information 
#2 – 9440 48th Street SE
Calgary, AB T2C 2R2
Call us: 1-888-875-SHIP (7447)
Email us: info@shipmyride.ca
ShipMyRide *Point to Point Peace of Mind*