Car Shipping in Canada
Shipping your car done the right way, and not just that. We have made it easy and accessible, time effective and efficient.
We know you have a busy schedule, if you have a new sale, or you are relocating, you have enough in your hands. Let ShipMyRide take care moving your vehicle anywhere you need it.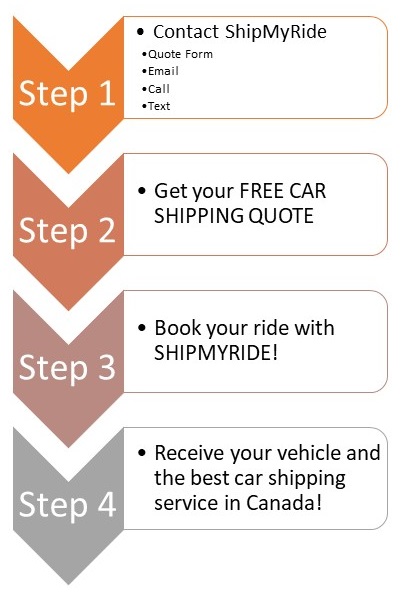 When you need your vehicle moved you can contact ShipMyRide, you can contact us by email, phone, text or though our website.
We will gladly provide you with a completely free auto shipping quote. With ShipMyRide you will enjoy a qualified car shipping service. ShipMyRide is a certified auto shipping company that we dare say has the best car shipping service in Canada.
Booking is easy, contact us for more info!
These are some of our Car Shipping Services:
Door to Door – We can pick up the vehicle from your drive way and deliver it to the address of your choice.
Terminal to Terminal – This option saves our customers some money! Drop off the vehicle at the terminal nearest to you and leave the rest to us.
Open or Enclosed – You can ship your vehicle on an open trailer or an enclosed one to protect it from the elements.
Let our experienced staff take care of the rest, all our staff works together to make sure you receive a 5 star car shipping service.
Our staff is ready to answer any auto transport questions, contact us today!
---
Ship My Ride – Contact Information 
10612 24th ST SE 
Calgary, AB T2C 4Z7
Call us: 1-888-875-SHIP (7447)
Email us: info@shipmyride.ca
ShipMyRide *Point to Point Peace of Mind*
---
Auto Shipping in Alberta | Auto Shipping in British Columbia | Auto Shipping in Saskatchewan | Auto Shipping in Manitoba | Auto Shipping in Ontario | Auto Shipping in Quebec |Auto Shipping in New Brunswick | Auto Shipping in Nova Scotia | Auto Shipping in Prince Edward Island | Alberta Car Shipping | Ontario Car Shipping